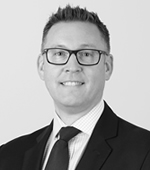 James Heath (Keoghs)
President
James Heath (Keoghs)
President
James is a Partner at Keoghs LLP, having joined the firm as a Trainee Solicitor in 1995.
He assisted in establishing the firm?s counter-fraud services division in 1998 and, since that time, has been instrumental in the development and growth of Keoghs' fraud practice. He works with a wide range of insurers and corporate clients helping them to define, implement and improve their counter-fraud strategies, as well as advising upon complex fraud matters.
He is a well-known and respected member of the counter-fraud community, and is regularly invited to contribute to national conferences, events and seminars upon fraud related issues. James also holds the role of Keoghs? COLP and leads the firm's Quality, Risk & Compliance (QRC) team.
As President, James will ensure that FOIL continues to take a leading and influential role in the industry, helping to inform and shape the landscape in which FOIL Members, our Sponsors and Trade & Industry partners operate, and will support the ongoing development of FOIL through London FOIL, new SFTs and expansion of FOIL's geographical footprint.
Away from the industry, James tries to juggle spending time with his wife, Tracy, and daughters Emily & Abigail with reducing his golf handicap to a respectable level.